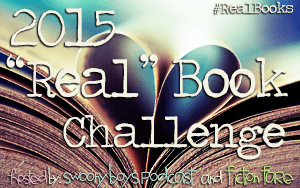 I have been meaning to write a proper post for this challenge for a while. I wanted to join, thought about joining, finally joined but then realized I forgot to write the starting post (this). This is not saying much about my organizational skills. (don't worry I use Google Calendars for my reviews)
So the level that I'm aiming for is ;
41-50
– Real Book Hoarder
I even made myself a
Goodreads Shelf
to help me keep track of what physical copies I've read. I wish I have read more, I have piles at home and when I have an ecopy and physical copy of a book, I always choose to read the physical copy.
I would list the books I hope to read but I kind of read by the seat of my pants. I'm a mood reader and it's why I sign up for tours and things, to keep me on track. You know because when it rains on Crazy Published Tuesday, there are too many that I want to read all of a sudden.
Okay off to write my September post. See I'm already doing better...I think.